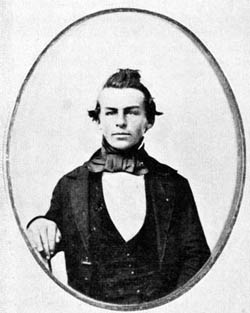 Copy of a letter written on board the
"Mary Celeste"From Captain Briggs
to his mother the Sunday before she
sailed on her fateful voyage.
Background to the Captain of the vessel
An Extract From "The Rose Cottage" Chapter XIV
by Oliver Cobb, cousin to Benjamin's wife Sarah.
In 1862, Benjamin S. Briggs married Sarah E. Cobb, daughter of Rev. Leander Cobb. He had for several years sailed the brig Sea Foam but now was in command of the three masted schooner Forest King and in this vessel Benjamin and Sarah made their honeymoon trip to Europe. Later Benjamin gave up command of the Forest king to his brother Oliver and in 1865 he was in command of the bark Arthur. His son Arthur S. was born that year at Rose Cottage, Marion, Massachusetts.
The next year Mrs. Briggs and Arthur went with Capt. Briggs in the bark Arthur to Marseilles, France. On October 31, 1870, Their daughter Sophia M. was born at Rose Cottage.
Capt. Benjamin had tired of the sea. Both he and his brother Oliver now had growing families and wished to live at home. In 1871, they planned to buy a hardware business in New Bedford, but when it came to making a decision they were influenced by the disastrous experience of their father and did not venture. In 1872, Capt. Briggs bought an interest in the Brig Mary Celeste. He had the cabin remodeled so as better to accommodate his family. The brig was loaded with a cargo of 1700 barrels of Alcohol for Genoa. The captain took with him his wife and two year old daughter Sophia M. Briggs. The son Arthur S, Briggs, being seven years old, was left with his grand mother at Rose Cottage so that he might go to school.
I, the writer was again living at Rose Cottage. At this time the following letters were received by Mrs. Briggs from her son and daughter-in-law. These letters not only indicate the spirit in which they sailed away, but they also fix certain dates.
New York, Nov. 3d, 1872
My dear Mother:

Its been a long time since I have written you a letter and I should like to give you a real interesting one but I hardly know what to say except that I am well and the rest of us ditto, It is such a long time since I composed other than business epistles.

It seems to me to have been a great while since I left home, but it is only over two weeks but in that time my mind has been filled with business cares and I am again launched away into the busy whirl of business life from which I have so long been laid aside. For a few days it was tedious, perplexing, and very tiresome but now I have got fairly settled down to it and it sets lightly and seems to run more smoothly and my appetite keeps good and I hope I shan't lose any flesh. It seems real homelike since Sarah and Sophia got here, and we enjoy our little quarters.

On Thurs. we had a call from Willis and his wife. Took Sophia and went with them on a ride up to Central Park. Sophia behaved splendid and seem to enjoy the ride as much as any of us. It is the only time they have been away from the vessel. On account of the horse disease the horse cars have not been running on this side of the city, so we have not been able to go and make any calls as we were so far away from anyone to go on foot and to hire a private carriage would at least $10.00 a trip which we didn't feel able to pay and we couldn't carry Sophia and walk a mile or two which we should have had to do to get a ferry for Ivamacs(?) or E-port. It has been very confining for S. but when we get back I hope we can make up for it.

We seem to have a very good mate and steward and I hope I shall have a pleasant voyage. We both have missed Arthur and I believe we should have sent for him if I could of thought of a good place to stow him away. Sophia calls for him occasionally and wants to see him in the Album which by the way is a favorite book of hers.

She knows your picture in both albums and points and says Gamma Bis, She seems real smart, has gotten over her bad cold she had when she came and has a first rate appetite for hash and bread and butter. I think the voyage will do her lots of good. We enjoy our melodeon and have some good sings. I was in hopes that Oli might get in before I left but I'm afraid not now.

We finished loading last night and shall leave on Tuesday morning if we don't get off tomorrow night, the Lord willing. Our vessel is in beautiful trim and I hope we shal have a fine passage but I have never been in her before and cant say how she'll sail. Shall want to write us in about 20 days to Genoa, care of Am. Consul and about 20 days after to Messina care of Am. Consul who will forward it to us if we don't go there.

I wrote to James to pay you and A's board and rent. If he forgets call on hom also for any money that may be necessary for clothes. Please get Eben to see his skates are all right and the holes in his new thick boot heels. I hope he'll keep well as I think if he does he'll be some help as well as company for you. Love to Hannah. Sophie calls Aunt Hannah often. I wish I had a picture so she could remember the countenance as well as the name.

Hoping to be with you in the spring with much love
I am Yours affectionately
Benj